CKS Cord Draw System - Fully Assembled
Highly efficient cord traversing system with extruded internal cord channels. Eliminate cord sag and prevents cord tangle.
For light to medium weight draperies and oversize treatments.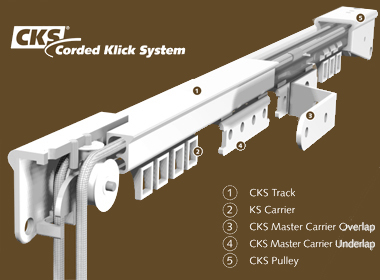 This system is available in the following colours:
.25 - White
.59 - Black
.60 - Aluminum
Custom Applications:
Can also be used for Ripplefold.
For a quote or more information please contact customer service or send an email: info@textiletrimmings.com



Supreme Quality
Shades & Blinds by
Canadian Blind
Manufacturing Inc